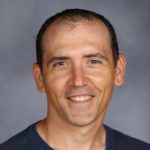 A passionate presenter and teacher, Mike Graham has taught Physical Education since 1996 and currently works at Williamsburg Elementary School in Geneva, Illinois. He was named the 2019 Illinois AHPERD Elementary PE Teacher of the Year. He serves on various committees within his State organization and is the current President of the Northern District of IAHPERD.
Website: pe4everykid.weebly.com
Students have a koosh ball in their hands and they stand at their home base. When the music starts, they run out the center and…
This activity works on catching a self-toss. Can use it with K-2 and vary the number of catches required.
Find more resources on my website…